Banner Campaign
Discover the power of targeted banner campaigns in front of an engaged audience ready to make a purchase. Think of a potential customer driving in a busy commercial area of the city, seeing numerous businesses but not in the market for what most offer and not in the mindset of anything but getting home from a hard day at work. Now picture a potential customer walking into your showroom and having the chance to speak with them before they make a final decision. One customer is in the purchasing process while the other has not even realized they are in the market for your products or services. With banner campaigns on NLClassifieds.com, you can reach an audience who are actively looking to make a purchase and are considering their options in your industry. If this sounds like the perfect potential customer that you would like to have the opportunity to reach, contact our team today and learn about the different sizes, options and flexibility our banner campaigns can offer.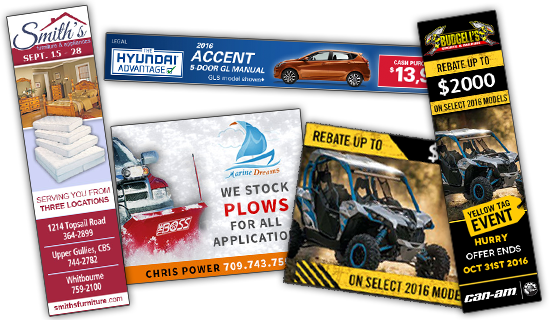 Banner Campaign Benefits Custom features just for you
With approximately 300,000 unique monthly visitors, targeting is important to us and can help ensure a focused campaign and better results for you. Banner campaigns can be targeted to specific regions, specific classified categories and even certain times on the calendar - whenever suits your business and brand. Some options include leaderboard banners, skyscraper banners, medium rectangle banners and more. Campaigns can also include various different messages to ensure you have the right message at the right time for the right people. Campaigns are also available across our platforms (desktop website, mobile website, iOS app, Android app) and can be customized to fit your needs.
Features
Available across all devices and platforms
Static, GIF and HTML5 animated options
Targeting options include geo-targeting and by classified category
Various sizes for different size screens
Links to drive web traffic, sales leads and purchases
Banner advertising can help increase immediate sales while also helping to build your brand and improve general awareness and recognition of the company.
Our top priority is our users and providing a safe and secure marketplace that is easy to use.
For further information on how we can help you get started on your campaign, contact our sales team: