Commercial Accounts
Create a virtual storefront where hundreds of thousands of potential customers can see the latest and greatest products and services that you have to offer them. With each commercial account comes a dedicated showcase specific to your company and brand including a vanity url with your company name (example: www.nlclassifieds.com/BobsCarLot). This is where you takeover NLClassifieds.com and have the opportunity to sell visitors on any and every product or service you have advertised. With approximately 300,000 unique visitors to our website each month, it is extremely likely that your target market is already spending time and money with us. A commercial account gives you the opportunity to reach the right people (your customers) at the right time (when they are engaged and ready to make a purchase) with the right message (this is where your sales team work their magic).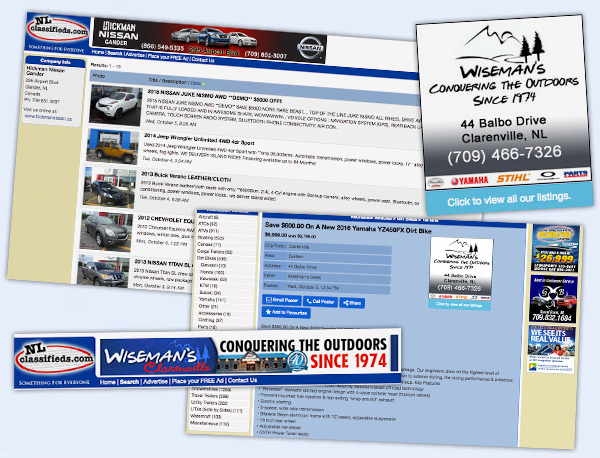 Features and Benefits Giving you more for less.
These self-maintained accounts are fantastic for getting your listings online faster than ever. Commercial accounts include many great features such as company graphics on each listing, a dedicated showcase page with all your active listings as well as more branding including your logos, physical address (if applicable), contact information and more. Other features include live links in all of your ads, one-touch call and email button call-to-actions on all of your ads and of course full access to your account and ads 24 hours a day, 365 days a year.
Features
24/7 access
Fully customizable
Company branding in all ads and showcase
Flexibility in number of ads and content of ads; change inventory the minute an ad is sold or no longer available
Live links to your website, your showcase and your other listings
Discover the advantages of online advertising including measurable results, targeted campaigns and higher returns on your hard-earned advertising budget.
Our top priority is our users and providing a safe and secure marketplace that is easy to use.
For further information on how we can help you get started on your campaign, contact our sales team: